COVID-19 Update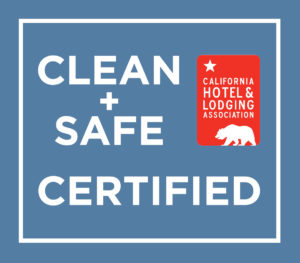 Dear Guests,
The Gables Inn Sausalito has always served as a respite from the worries of the world and we will continue to provide that excellent service to all of our guests.  As a boutique fifteen room property with many rooms having a private entrance, we offer a unique opportunity to travel while adhering to state, local, and personal guidelines for social distancing and virus eradication. 
The health and safety of our guests and employees has always been our top priority.  We have always been diligent to ensure The Gables Inn Sausalito is clean and safe for all.  We are now taking extra precautionary steps during this flu season and with the concerns regarding COVID-19. 
We have been working hard to establish new health and safety standards across our property that will be strictly in place as we open our hotel. These include extensive cleaning and sanitizing measures, social distancing in all areas of the hotel, limited number of room reservations accepted each night, no-touch payment options, no-contact food ordering and delivery, and much more:
Please follow these steps to ensure our guests and employees stay healthy:
Stay home if you are sick.
Avoid touching your eyes, nose, or mouth with unsanitized hands.
Avoid contact with people who are sick.
Wash your hands often with soap and warm water for a minimum of 20 seconds and follow-up with an alcohol based hand sanitizer.
Cover your cough of sneeze with a tissue or remove yourself from any public location prior to coughing or sneezing.
Disinfect frequently touched personal items such as your telephone or car keys.
Please see below for a complete guide to our health and cleanliness policies and links to advice and information. 
California and Marin County have been at the forefront of effective Coronavirus control measures and the Gables Inn Sausalito and our employees are receiving up-to-the-minute information to help stop the spread of this virus. 
We are committed to providing a safe and healthy, but also relaxing and comfortable environment.  We will continually update our policies based on the advice of government officials, public health authorities, and medical professionals.
Please be safe and come visit us in Sausalito as soon as you can!
Warmest Regards,
Michael Rogers
General Manager
________________________________________________________________
https://www.cdc.gov/coronavirus/2019-ncov/index.html
https://www.whitehouse.gov/wp-content/uploads/2020/03/03.16.20_coronavirus-guidance_8.5x11_315PM.pdf
https://coronavirus.marinhhs.org/
https://www.marincounty.org/depts/cd/divisions/environmental-health-services
https://coronavirus.marinhhs.org/surveillance
https://www.osha.gov/Publications/OSHA3990.pdf
Coronavirus COVID-19
Guidance for Food Facilities
➢ If the items can be laundered, launder items in accordance with the manufacturer's instructions using the warmest appropriate water setting for the items and then dry items completely.
➢ Otherwise, use products with the EPA-approved emerging viral pathogens claims.
➢ Steam clean carpets and other porous surfaces as needed.
Background
COVID-19, is part of a class of coronaviruses that cause respiratory illness and is spread through the air via respiratory droplets from an infected person or by touching contaminated surfaces.
Symptoms of the virus include fever, cough, and/or shortness of breath.
Information about COVID-19 is rapidly changing. This document is an update to the March 19 document. The previous "Guidance for Food Facilities" is superseded by this document.
Prevention – Sanitizing Equipment and the Facility
Wash, rinse, and sanitize food contact surfaces, dishware, utensils, food preparation surfaces, and beverage equipment after use, or at least every four hours. Clean and sanitize tables, chairs, service counters, cash registers, credit card stations, and any other areas exposed to customers routinely throughout the day. Remember to sanitize doorknobs, equipment handles, check-out counters, grocery carts, touch screens, faucet handles, and cabinet/drawer pulls.
For soft (porous) surfaces such as carpeted floor, rugs, and drapes, remove visible contamination if present and clean with appropriate cleaners indicated for use on these surfaces. After cleaning:
Chlorine (bleach) based sanitizer over 100ppm or quaternary ammonium-based sanitizers over 200ppm are effective at killing viruses. Use test strips to ensure that sanitizer is at the required concentration. EPA-registered disinfectants shall be used.
Discontinue Self-service Operations
Examples of such operations include: salad bars, buffets, beverage stations, and bulk bins. Cease sampling of food. Delis and bakeries may continue to operate.
Implement Social Distancing
Pursuant to the Marin County Health Officer Order of March 31, 2020, all essential businesses must post and implement Social Distancing Protocols. Protocols include:
➢ Limit the number of people in a facility at one time to ensure a minimum six-foot distance from one another.
➢ Implement a line system, marking six-foot increments to maintain adequate social distancing. ➢ Provide hand sanitizer, soap and water or effective disinfectant at or near the entrance of the facility and in other appropriate areas used by the public and employees. (Hand sanitizer should contain at least 60% alcohol, and don't forget the trash receptacles.)
➢ Regularly disinfect high-touch surfaces. (See above.)
➢ Post a sign at the facility entrance informing all customers and employees that they should: avoid entering the facility of they have a cough or a fever; maintain a minimum six-foot distance from one another; sneeze or cough into one's elbow; not shake hands or engage in any unnecessary physical contact.
Prevention – Handwashing
Remind employees to wash hands with soap and water for at least 20 seconds. Hands should be washed:
➢ Before starting food preparation
➢ After using the restroom
➢ After coughing, sneezing, using a tissue, smoking, eating or drinking
➢ When switching between raw food and ready-to-eat foods
➢ Before putting gloves on
➢ After cleaning, bussing tables, or touching any items that customers have used
➢ Between handling money/credit cards/pens/receipts and handling food
➢ If working a cash register, it is recommended that employees should wash hands or use hand sanitizer between customers
Note! Hand sanitizer is recommended and should be used after washing hands
Assign an employee at every shift to keep soap and paper towels stocked at hand sinks
Glove Use
Although not a requirement, the use of gloves may provide a level of protection from contamination if used properly.
Face Coverings/Masks
Face coverings or masks are not required for personnel producing and/or processing food. However, CDC recommends wearing cloth face coverings in settings where other social distancing measures are difficult to maintain (e.g. customer services areas). The use of the face coverings is to slow the spread of the virus by those who are unaware they are infected. The face covering/mask should entirely cover the nose and mouth and allow for unrestricted breathing. Reusable face coverings/masks should be laundered daily before each use. Save the N95 and medical masks for medical personnel.
Employee Health
If the sick employee DID come to work while showing symptoms, the following is suggested:
Cease operations, close your facility and thoroughly sanitize it. Your facility can reopen as soon as it has been sanitized.
Instruct the sick employee to self-isolate at home. For instructions on how to self-isolate and for how long, https://www.cdc.gov/coronavirus/2019-ncov/if-you-are-sick/steps-when-sick.html
Inform other employees that they may have been exposed to COVID-19 and the day(s) on which the potential exposure occurred. Employees should monitor themselves for symptoms for 14 days and may continue to work during this 14-day period only if they do not have symptoms. They should also follow social distancing protocols (frequent hand-washing and hand sanitizer, 6+ feet distancing, avoid ride sharing or public transportation, etc).
Monitor employees when they begin their shift. Consider taking temperatures. If an employee is experiencing any fever and respiratory symptoms, they should stay home until 3 days after they are symptom-free to prevent the spread of any illness and at least seven days from when the symptom(s) first appeared. (See #2 above.)